Graphics Atlas is a sophisticated resource that presents a unique, object-based approach for the identification and characterization of prints and photographs.
Recently Added objects:
Begin exploring our study collection by selecting the following tools:
Digital Print Workshop October 27-29, 2014 in rochester, ny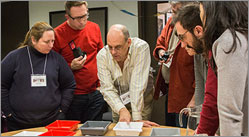 This three-day workshop will be presented in two parts. You can select from Part 1 (Beyond the Image—Visual Literacy and Methods of Looking) or Part 2 (Identification & Preservation of Digitally Printed Materials), or attend both sessions. The workshop will be held in a small group setting, including lecture, discussion, and hands-on activities. A course binder of information, resources, process identification reference sheets, and inkjet print samples will be provided to participants. Catered lunches and breaks are included in the workshop fee. Sessions will run from 9am - 5pm each day.
Publication Care and Identification of 19th-Century Photographic Prints by James M. Reilly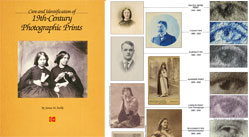 Care and Identification of 19th-Century Photographic Prints presents technical information in plain, understandable language and is supported throughout by high-quality color reproductions showing the various print types and their forms of deterioration. A key feature of the book is its practical, detailed system for 19th-century print identification. The pull-out flowchart gives step-by-step guidance for identifying major print types. Order your copy today!
This book contains everything one needs to:
approximately date a print
correctly catalog by print type
provide a safe enclosure
recognize forms of deterioration
store, handle, and display prints safely
manage the preservation of a large collection
deal knowledgeably with a professional conservator